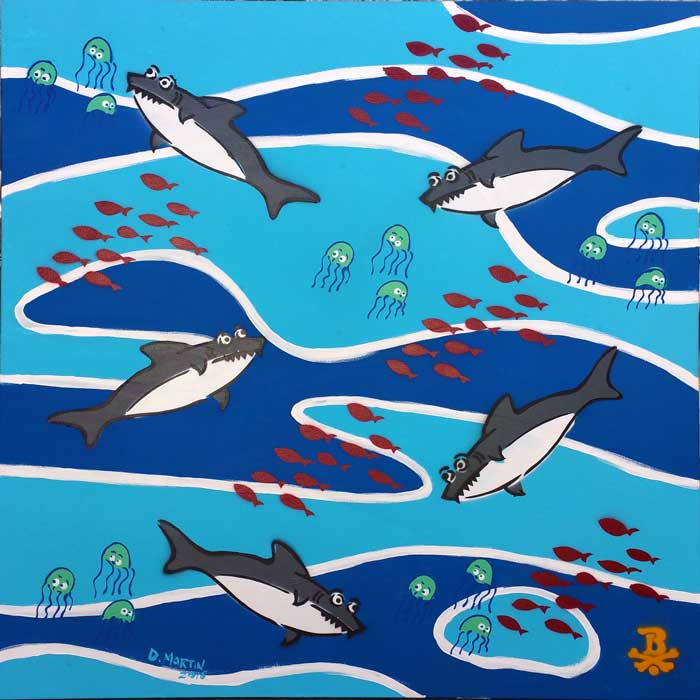 48″ x 48″ acrylic/spray paint on canvas (2016)
Statement:
Sharks are iconic ocean animals. They've been around for a looong time – like about 420 million years. Many species are apex predators – at the top of the underwater food chain, yet increasingly many of their populations are threatened by human activity. Most view sharks with fear and malevolence and it is estimated that 100 million sharks are killed every year, including an estimated 38 million for their fins.
In a sense, this work has been in process for a good 18 years, the original sketch, a black toothy anthropomorphized stylization, as well as the jellies were completed in the late nineties, and originally intended as an fabric print for my then company Paradise Dreamwear. I lost all of my Paradise Dreamwear graphic designs and ideas from a failed hard drive and a crappy system of saving and backing up but miraculously found an old 3.5 inch floppy disk with some old sketch on it. An idea that had been all but forgotten, I decided that I might as well paint the print instead. After experimenting with the execution of the sharks, I decided that stencils would be the best way to keep the graphic style and preserve the original conceptualization.
There are 5 sharks, 15 jellies, 55 fish that have been sprayed from a total of 7 stencil cuts. From the initial paint touching the canvas (background acrylic) to the completion was about 10 months.
My art is dedicated to helping the efforts in protection of our oceans and all the creatures that live there. -dlm
Original: Private Collection
Full Size Print on Canvas – Available
Half Size Print on Fine Art Paper – Available